Our carefully selected ingredients ensure a long-lasting, high quality, very comfortable futon. An honest value.
Imagine sleeping on the finest natural fibers every night.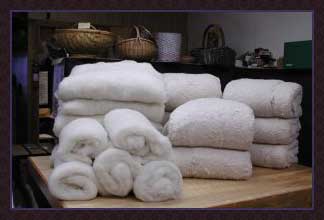 Wool batting (on the left) & cotton batting (on right side) ready to make a queen size 8″ double wool futon
The Casing
The case is made of a heavy cotton-blend twill fabric, which will not tear under stress. The case is sewn with square corners to accommodate fitted sheets.
Cotton Batting
We use "green" cotton, which means there are no dyes, bleaches or fungicides used in the processing. Our cotton batting is clean, American grown, long staple virgin cotton. It is formulated for loft and integrated strength, resulting in a resilient cotton batt that will not separate or form lumps.
Wool Batting
Wool fiber has a natural "crimp" with permanent built-in memory. This wool is naturally springy and helps to keep softness in our futons. Scientific tests show that wool recovers 95% of its original thickness, whereas synthetic fibers recover an average of only 73%. The wool we select for optimum performance comes from Black Face Suffolk sheep, raised in Montana. Because of its long & springy fiber, Suffolk wool is ideal for futon making. This wool resists compacting (it won't "felt").