King Futon Information & Prices
As you may know, the cotton batting in a natural fiber futon starts to compress with use. In order to keep the futon as even as possible across the sleeping surface it is important to turn and flip the futon frequently, especially when it is new.
King size futons are so large and heavy that this maintenance is very difficult to accomplish and is often just not done at all (an 8" King Size futon will weigh from 103 to 115 lbs., a 10" from 127 to 156 lbs.). We have discontinued making the king size for that and other reasons.
However, we have had great success with the tried & true method of using two Twin Extra Long Standard or Custom Futons, side by side, which make an Eastern King, or a California King.
Here are the Possibilities:
All Kings are made with two futons.
Small Wonders

Eastern

King
A Small Wonders Eastern King made with two Twin Extra Long futons would measure 78″ x 80″. This dimension is 2″ wider than the industry standard of 76″ x 80″.
Industry Standard

Eastern

King
An Industry Standard Eastern King measuring 76″ x 80″ is made 

with two 38″ x 80″

CUSTOM

futons. This price is about 18% more than the price for a Small Wonders Eastern King.

California

King
A California King measures 72″ x 84″. This size would be made with 

two, 36″ x 84″

CUSTOM

 futons.
You can find a kit to keep the two futons together. If you Google "Create a King" you will find More information about this.
1. Small Wonders

Eastern

King Size Futon, made with Two, Twin Extra Long Futons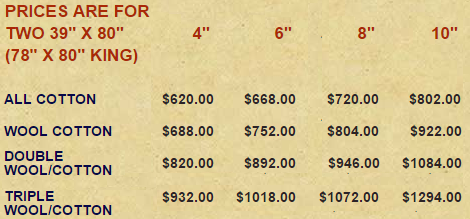 2. Industry Standard

Eastern

King Size Futon, made with Two, CUSTOM size Twin Extra Long Futons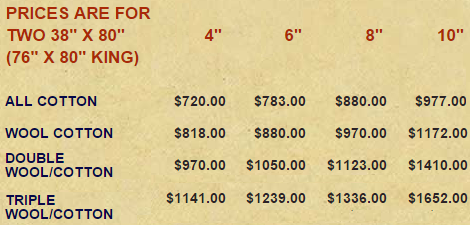 3. 

California 

King Size Futon, made with Two, CUSTOM size Twin Extra Long Futons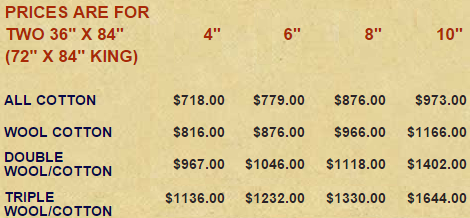 If you would like a shipping quote on any of the above two-piece King Size Futons, please specify size and thickness in the Questions or Comment box, on the Contact Us Page