Small Wonders Futons
800-982-9166
Our supplier has hundreds of fabrics available and they make all sizes including custom sizes.
A link to the website will follow. The website doesn't have prices but it does give price codes (what they call "grades").
Here is an approximation of costs based on the grade:
(Prices do not include shipping)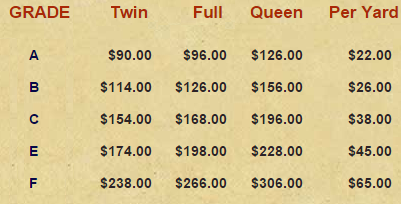 Note
The above slipcover prices are for futons from approximately 6" to 8" in thickness . For futons thinner than 6" add $16.00; for futons thicker than 8" add $30.00.
Occasionally a fabric choice has been discontinued and has not yet been removed from the website. We recommend making note of the fabric that you like and a second choice just in case.
The above prices for slipcovers are our in-store prices. Shipping is not included. Shipping is based on weight and the distance from Minnesota (location of SIS Enterprises) to your destination. Shipping will normally cost from $20 to $25 for a slipcover.
Fabric samples
(8" x 8") can be shipped to you. Samples are $2.50 each which includes shipping. Call us after you have made your choices and we will place the order for you.
Deco pillows
Deco pillows are available in 16", 20" and 24". There are 2 choices for pillows: 1) complete pillows (pillow cover and feather insert); or, 2) pillow cover only.
Shipping & Contact us
Call us at 1-800-982-9166, or email us at wonders@montana.com for prices.
Futon slipcovers and pillow covers will be drop-shipped to you from SIS covers in Minnesota. Complete pillows will be shipped from us, here in Montana. Your order will usually take about 2 weeks to receive.
Link to fabrics website:
SIS Covers
Questions or need a CUSTOM size? Contact Us